When you are starting a new website then you visit some popular or professional websites to get an idea of how you design your site. Now you don't know which theme those sites are using but it is possible you can use WP Theme Identifier to identify the theme of a particular website.
Personally I used this when I started my blogging journey. If you also want to know which theme I was using in my site or any other then read the full article.
For every blog or website a well optimized theme takes a huge role, in some cases website visitors fall back because they don't understnd the inter face.
Thats why a Good theme is necessary……
So Lets start…
What is theme identifier or theme detector?
WP theme identifier is a tool or we can say program which helps the user to identify which WordPress theme used on the website.
I will explain 3 method to identify any WordPress websites theme –
1. Check WordPress theme using a Static Website
If you are a beginner and it is the easiest way to identify any WordPress website theme. I use WPTD it is an online free tool that gives you results in some seconds.
Browser WPTD website and paste the URL of that website whose theme detail is required.
It will first visit the targeted website and identify is this website host on WordPress or somewhere else. If the site is hosted on WordPress then it gives the result as WordPress theme name.
After sucessfuly detection it gives in detail information like
Theme Name
Theme Download Option
Author of Theme
A short description of theme
Theme Provider
Popularity
Tags or Structure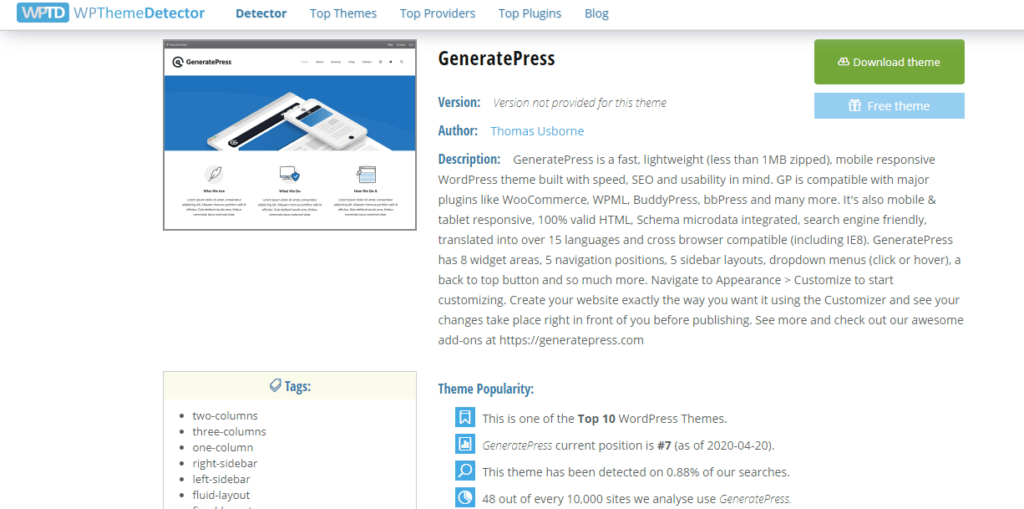 Remember in some cases these websites don't detect the website them. If the theme is designed by developers for private use.
Now the second method to identify WP theme in a little time.
2.Detect manually Which WP theme that Website Has
Mainly this issue you face when a private theme is installed on a website or some modification was done on that them. Now you will identify the theme name using manual wp theme identification method.
Every theme have some js,css and php files there and there are many clues there because of pleanty files. Now you access some files where you get clue of the wp theme.
Now you will use css file to identify the theme name. Every website have style.css which contains many information of a website like theme name, author name, version of the theme and the css part.
Open the website whose website theme you want to know, now open the source code and search for "style.css".
Now open that link you get all detail like below image….
I think now you get the detail of the theme using the above technique if don't then follow the last method I guarantee you will get the theme detail.
If you used above two methods and you don't get result then use the last method.
3.Find WP theme Using Another Manual Method
Now most WordPress sites are using CDN which compresses all the JS, CSS files into a CDN link which helps to boost up a website speed. If any website is using CDN then you don't use method no 2.
Open any browser and browse the website and inspect that page.
Now your see the folder of the WordPress theme 'Newspaper' .
Now you definitely get the theme detail of a WordPress site, if you have any query then comment below.