These days you must use in touch with the internet or social media and you have thousands of friends or followers. If you have friends or followers then you get lots of notifications on your phone.
If you are frustrated with lots of notification or due to some security reasons you have wanted to deactivate your Facebook account temporarily or permanently then read the full article to get the information about how to deactivate Facebook Account.

Many peoples create some secondary accounts for different reasons here you must know before deleting your secondary or duplicate Facebook account.

Some important pieces of information, I will explain in this article briefly read then decide how to delete the Facebook account or deactivate temporarily. You will delete your Facebook account using any devices with the help of a smartphone or laptop, desktop.

Facebook is the world's largest social media platform where they try to give the best services to her customers, this is another service where they take a response from the customer before deletion an account and rectify her fault.
How to Deactivate Facebook Account Temporarily
Deactivate facebook is a service provided by Facebook to make a distance from Facebook for a temporary time. If you activate this service then you fb account will temporarily disable for a period of time.
The honest feature of is you will disable (temporarily) at any time and active any time. If you disable temporarily then you all data will safe in FB database, after activating account it will redisplay in your account as like previous.
Some data will temporarily change in the period of deactivation, that are
Daily Facebook Notification will off.
No one can see you profile data or detail.
Your friend will see you name on the friend list but any other cannot accept or send a friend request.
If comment somewhere then comment still visible for others.
These above points will affect your account if you deactivate your account temporarily if you agree then continue how to deactivate.
How to deactivate facebook account using laptop/Desktop
Again i inform you before deactivating understand above explanation. So Login in facebook with user username and password.
Click right top Down Arrow.
Open Setting.
Click on Your Facebook Information.
Click on option "Deactivation and deletion".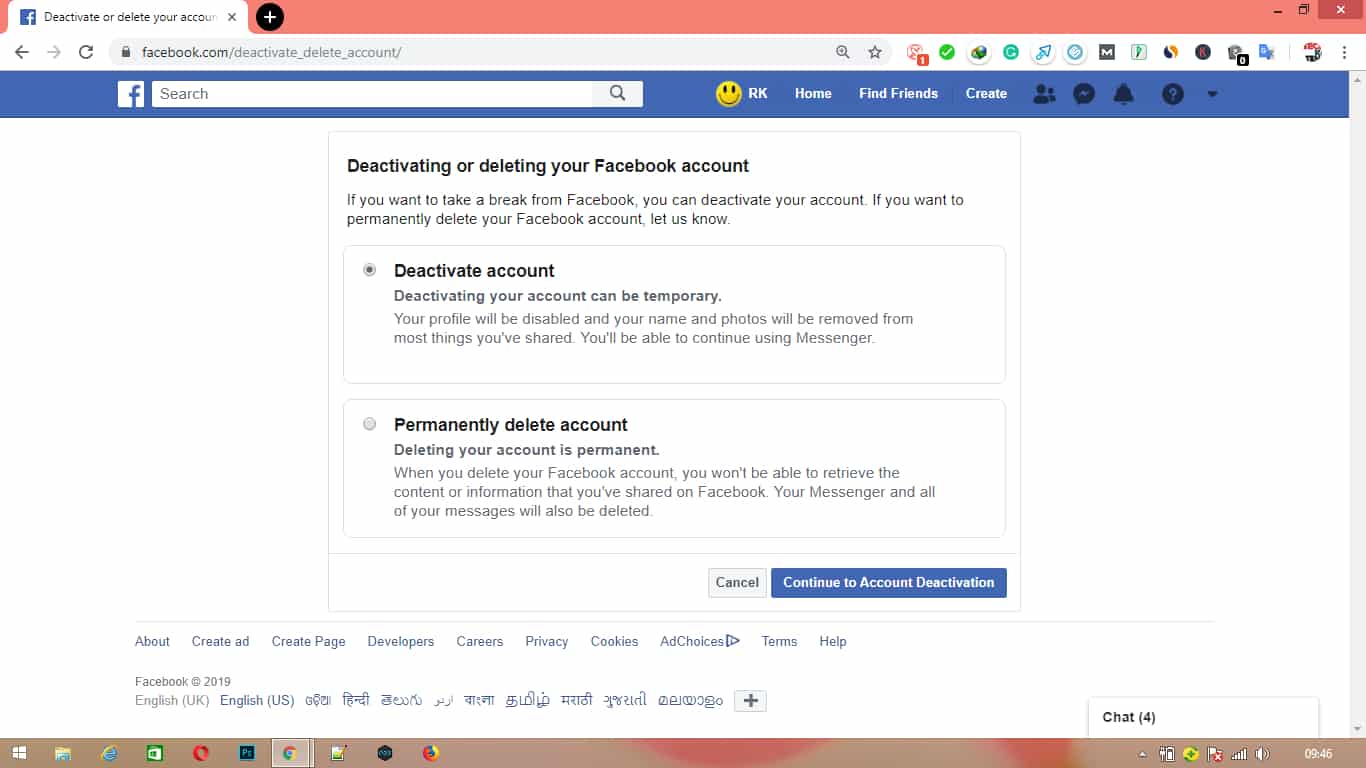 1.Deactivate your account 2.Permanently delete your account
Choose "Deactivate your account" and click continue to Account deactivation.
The last step to deactivate, choose the reason to leaving from fb.
If you want to get info about Facebook or want to use messenger then choose another option.
Click deactivate.
Deactivation successfully.
Now your account is deactivated successfully if you want to reactivate your account then login using your user id and password.
A verification message will go on your registered mail or number enter it and reactivate successfully.
How to Deactivate Facebook on app
The process to deactivate the Facebook account on the app is same as explained above but some little difference. Facebook app is available for different os with different UI (user interface) thats why the process is little bit change.
Open your fb app and click on three lines in the right side.
Click on personal information.
Fourth option is available "Personal Information" click it.
Now Manage account opens and deactivate option will appear click it.
The final step fb asks the reason to leave, select the reason and continue.
Now your account is deactivated.
If you deactivate your account using the app then some deactivation feature will not allow FB customers, because of some security reasons.
You will only deactivate your account using a smartphone app, you can't delete a Facebook account permanently.
The chat feature will always turn on if you disable fb account using the app, if you deactivate your account using laptop/desktop then a specific option provides for enabling or disabling messenger option.
Deactivate Messanger account after Facebook deactivation
If you want to disable also facebook messenger then below process.Open facebook messenger app to deactivate messenger of fb.
Open fb messenger app and click on your profile pic.
Click "personal information".
Now click manage the account.
And follow as well as previous steps.
I hope you will deactivate your account easily without confusion. If you irritate with your fb account and want to delete your account permanently then continue reading otherwise stop.
How to delete Facebook Account Permanently
In the above article, we learn to deactivate facebook account temporarily using desktop or app. If you are looking for deleting a facebook account then stay tune with the article.
If you are frustrated with fb or for your aby personal reason you want to delete or deactivate your Facebook account then you must know about the below points.
Your fb account will delete permanently and it never recovers at any conditions.
Your all facebook data available is delete from the facebook server and this data also cant recover after the deletion of fb account.
Facebook messenger and its all data like chat history, images, all are deleted from Facebook.
Sent messages from messenger is visible to your friend.
All services linked with facebook will deleted, as an example your Facebook pages will also delete.
If you agree with the above points then you may delete your fb account permanently.
Facebook Account Delete Permanently
Follow the Steps To Delete Your Facebook Account Permanently.Login into your fb account using your user id and password and now follow.
Click on down arrow and click setting..
Open option "Your Facebook Information" and choose "Delete and deactivation".
Another page will arrive, there is an option "Delete Account" click and delete your account permanently.
Once you have deleted your account on facebook it can't be recovered at any conditions.
If you have important data on facebook like images, videos then you will download all data before deleting the account. If you face any other issue then contact with facebook help center or fb communication.
Conclusion on Facebook Account Deletion or Deactivation
I think you must understand the difference between fb Account Deletion or Deactivation.
Account deactivation means there is no issue with your fb account but if you deleting your account then you must know because you cant recover after that.
Your all data will erase from facebook and it cannot recover. If you are deleting an account make sure you have downloaded your important data from Facebook ( images, videos ).