If you are reading this post then you have a blog or interested in blogging and want to know what is a blog? then you come to the right place.
If you want to know all about blogging and its types then you must read below post to get all the information.
A blog is a platform where you can share your experience or idea in own words. Then what is the difference between a personal diary or a blog?
The difference is only you can see what you write but in a blog, you can share your interest with others using a platform which is a webpage.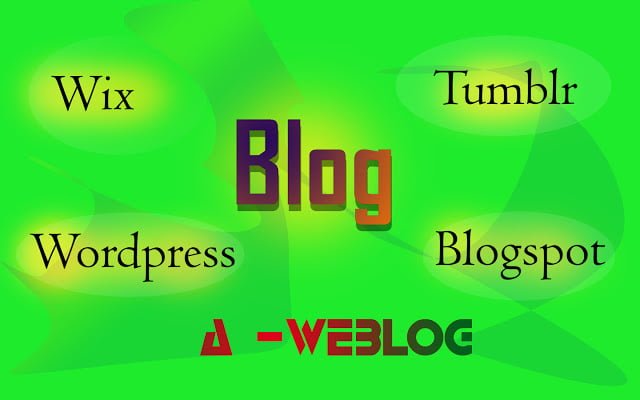 What is a Blog?

Definition of Blog :

A Blog is a simple webpage or weblog where you can share your thought, idea, and your experience in a form. A blog is a single platform where you can share anything like news, ideas, experience, thoughts, etc.
You will think something which is unique and you want to share with the whole world and makes you thought successful. 
If we say in a simple language then the blog is a web diary where anyone can share her own opinion on his page, ideas, and experiences with his own review.
1.Types of Blog
There are different types of blogs, but the blogs are divided by observing the content type or content delivery.
– Person Blog :
A personal blog is an ongoing diary-like where you can write as your wish. It doesn't focus on particular content, you can write daily life, incidents, interest, hobbies, etc. These blogs are attracted by the same personal blog writers.
There is a tiny number of personal blogs are famous in the online community. Some Famous Personal Bloggers and blogs are
Amit Agarwal, Labnol.org.

Harsh Agarwal, ShoutMeLoud.com.

Shivya Nath, The Shooting Star.com.

Amit Bhawani, amitbhawani.com.

Imran Uddin, Alltechmedia.org.
– Business Blog :
Business blogs are those blogs that are created for making a brand name her business. In business blogs, the content is written for her clients, workers, competitors or to display the success of her business.
In business blogs, the content writer is hired for writing ideal content to attract customers or projects. The main visitors of the Business blog are her customers, new commerce customers, clients, etc.
Some popular business blogs are
– Professional Blog :
Professional Blogs are those blogs that are created for generating revenue from her content.
Their goal is to become a successful blogger with a good income online. Bloggers apply different monetization tactics to earn money online like display ads, sell ad space, promote products, etc.
Professional bloggers focus on one particular niche otherwise different category niche into one blog.
Some Professional bloggers write content himself or buy content from any content writer, the main motive of professional bloggers to generate revenue. Some popular Professional Bloggers and blogs are
Meet Gary Vaynerchuk @GaryVaynerchuk.com
Meet Rand Fishkin @SEOmoz.org
Meet Pat Flynn @SmartPassiveIncome.com
Meet Brian Clark @Copyblogger.com
– Niche Blog :
A niche blog is specifically focused on a particular topic. If anyone wants to share her passion with others then they create Niche blog.
If we take an example then a housewife starts a cooking blog, cooking is a niche (category) of the blog and in the blog, only cooking-related content will be written.
Some Popular Niches
Cars
Sports
Cooking
Game
Travel
– Reverse Blog :
A Reserve blog is also called a guest blog. Content for this blog is written by guest writers and guest writers are expert in this field. Guest writers can charge for writing content in this blog.
A Reverse Blog has a team that analyzes the post's views and promotes less attractive articles to attract and drive visitors to the page. A blogger can hire guest writers when they have lots of followers on their blog.
– Affiliate Blog :
Affiliate bloggers mainly publish different product reviews for selling the products and get the commission. They write some interactive content of that product which one he has to sell.
The goal of the Affiliate bloggers is to encourage visitors to buy the products.
Affiliate blogger typically write reviews for the products and what benefits you got if buy this product. They will fully explain the product how they use and what happens when after use. Typically they give frank reviews about the product.
– Media Blog :
If a blog is filled with vlog media content then this blog is called Media Blog. If you enjoy video vlog then you can upload your video in the blog and then this blog is changing to media blog. This generation wants to watch interesting vlogs for enjoyment.
– Freelance Blog :
Freelance Blogs are those blogs that provide money for giving service. For example, content writing for other businesses. If you are a content writer and looking way to get paid when you provide service.
Freelancers can give service by the order of freelance clients. Some niche they give self, I mean some new clients want to give good niche articles then the experienced blogger gives the content.
2.Blog Structure
Blog Structure is always the same as some minor changes appear in the appearance of blog. All blogs have nearly the same features if we compare them to another blog. Basically every blog has three or four sections.
A blog consists of Header, Body, Sidebar, and Footer. Use of pallets in the blog
Header – The header is used for title and menu bar. In the header the page name and tag line display.
Body – The body is the main portion of the page because all the latest posts are displayed on that page.
Sidebar – Sidebar consists of your social profile, favicon, etc.
Footer – Footer consist of links like privacy policy, disclaimer or another page and your page credit.
3.Purpose of Blog
A blog is an effective platform where you can promote your product, business in the market effectively.
You can share your idea or information with less time and medium. This means you can promote your product and drive a large amount of traffic to your blog.
Company owners create blogs for her companies to promote her goods and services to improvise her product liability with some good description.

From many strategies online marketing is a big strategy for companies obviously, every company wants to get more customers and the customers can read and attract with their product and make a sale.
Some tag lines there "Marketing is no longer about the stuff that you make, but about the stories you tell."
Personal Blogs are conveying important messages for the environment or personal ideas or thinking with others. Some of the blogs are created to earn online with advertising or marketing.
4. What is Blog Post?
Mainly Blog post is a combined bunch of words with meaning and it is written in a weblog page in content forms like photos, videos or infographics.
A perfect blog post contains a title, starts with the introduction and main content with some subheadings and finally an amazing conclusion. 

5. What is Blog Writing?
Blog writing can be defined by which type of niche you are writing and how much knowledge with that topic.
If you write a blog in between 1000 to 2000 word then your blog writing is good. If you are a professional blogger then before writing you must add some important questions to blog writing. 
Tips before writing a blog
Study your competition blogs
Study top-ranked blogs
Write blogs with your audience variation
6. Blog vs Website
Blog and websites are so many different but a website consists of a blog but a blog cannot become a website. A blog updates regularly, but a website cannot update regularly.
If we consider for a movie website there are 1000 movies upload at a time and viewers cand download or view with their time slot there is a certain time for uploading content. A blog update regularly because every day the follower of the blog comes to read the blog posts.

Blogs are updated regularly.
Websites are updated when new content available.
The content of Blogs is unique or written by the author.
Website contents are not unique.
A blog has a static page.
On the website both static and dynamic pages.
7. How to Start a Blog
In the 21st generation, every people spent more time surfing the internet. Everyone wants to get all the stuff of the world in her hand with a single click. Blogging is easy anyone can start blogging with zero coding knowledge.
There are many blogging platforms who gives to create a blog for free and some of the blogs are paid. The best blogging platform is WordPress and you can optimize your blog as your wish and drive more traffic to your website.
8.How to create a Blog on WordPress.
Steps :
– Study the market to find out low competition keywords for speed growth of your website.
– Purchase a Domain name and Webhosting for hosting your domain.
– Now install WordPress into your hosting using Cpanel.
– Chose a Fully Seo optimized theme and install it on WordPress.
– Your blog is Ready.
– Now write your idea in the blog as per your choice.
9.Earn Money From Your Blog
The latest passive income source is Adsense and many peoples earning lakhs of rupees in a month by monetizing her blog.
The best ad network to monetize your blog is Adsense and we can earn by simply adding some codes to your blog.You can check the top 5 approve Adsense tips to monetize your blog using Google Adsense.
Conclusion
I think you defenietly understand about what a blog and its types because it is a piller post if you want to start a blog for your passion or profession. So if you have any doubt then comment in the comment section.
If you really like this post then share it with your friends on different platforms. For any help comment below.