Are looking to create a blog or website on WordPress then in this post you will get a brief explanation of How to Make a Blog On WordPress and also Start learning form that blog.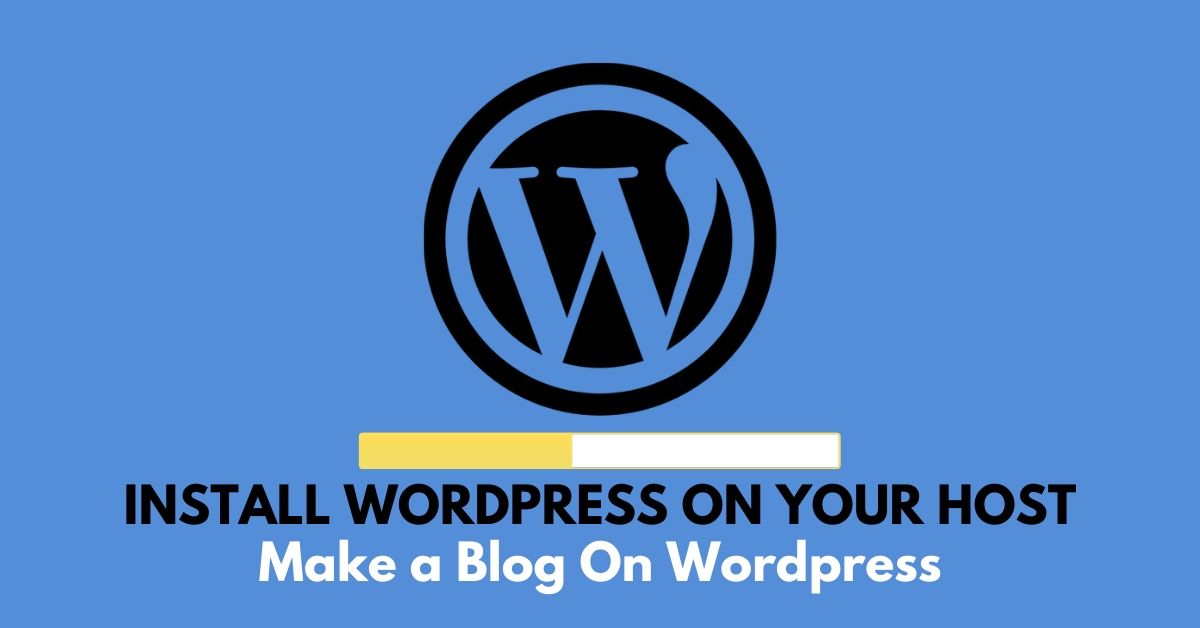 I know how much effort require to create a terrible blog on WordPress and this article gives you a comprehensive guide on how you start a blog on WordPress with my little experience on my blogging journey.
The process to start a blog is easy if you know the key points of WordPress….
If you are new to this space, I mean new to blogging then you have a lack of knowledge about WordPress, and it's all elements.
WordPress is a Content Management System or a CMS where the users manage their content with less effort. Because of WordPress high-level coding Knowledge is not required.
To Start a Blog on WordPress You have require 2 things
Domain Name ( Your websites or blog Address )
Website Hosting ( the place where you store your website all data )
If you have above two things then you will start a successful blog on WordPress with Zero Coding.
What we cover in this post
#1.The necessity of Domain name & How you choose the right domain name
#2. Choose the best hosting for your site
#3. How you install WordPress on your host
#4 Best WordPress theme for Comprehensive design
#5 Customize your Blog
#6 Write Your First SEO friendly Blog Post
#7 Plugins You Install Which Accelerate Your WordPress Blog
#8 Link Analytics and Search Console to Your Site
#9 Some External tips which drive lots of traffic to your site
#10 How to Monetize Your Blog / Earning Sources in a Blog
Are You Ready….
If you are going to start a new blog then you came to the right place because most newbies make mistakes to choose the right platform for her blog.
#1 The necessity of Domain name & How you choose the right domain name
In the Blogging journey basically two platforms are popular that is WordPress & Blogger. If you are really dedicated to starting a new blog then I prefer you start your journey with WordPress.
In the starting you require to invest some money but that will recover if you are do blogging seriously. If you don't feel secure then you may use the free blogging platform blogger.com.
But it has some demerits and you don't customize the blog according to your need.
So Buy the Cheap Web Hosting with 30 days 100% money-back guarantee.
Hostinger ( I use Personally )
A2Hosting ( Little bit High Cost )
If you want the best hosting and your budget is low then I prefer to buy hosting from Hostinger.
WordPress is the best free cms and you can customize your blog according to your need. If you see most of the blogger uses WordPress because it is free and easy to customize because of plugins.
Now you think WordPress is free why?
WordPress has two platforms 1.Wordpress.org & 2.Wordpress.com. You can download WordPress software from wordpress.org and use it for free but if you go with WordPress.com then you need to pay to use all features of WordPress.
WordPress.Org creates a free platform where people use all service of Wp but you will need to pay for plugin features or additional features. In WordPress, if you want customer support or update from theme company then you need to pay for that.
"WordPress is Free to Use but the Most Featured plugin, themes are Paid"
Why a Domain Name & How to Choose the Perfect Domain Name
Most of the newbie bloggers choose the wrong domain name for their blog and start their blogging journey. When you choose the wrong domain then you don't change your domain name, because it affects your search ranking as well as traffic.
That's why a Perfect Domain Name Selection is required…..
When you go for searching a good domain then you feel it quite difficult, yes i agree but you will search a good domain name with some easy steps follow the steps.
To Get a Right Domain Name for Your Bog Follow below Steps –
#STEP – 1
First Choose your Niche Where You are Perfect.
#STEP – 2
Now open a website where you get idea about your domain when you enter your targeted keyword.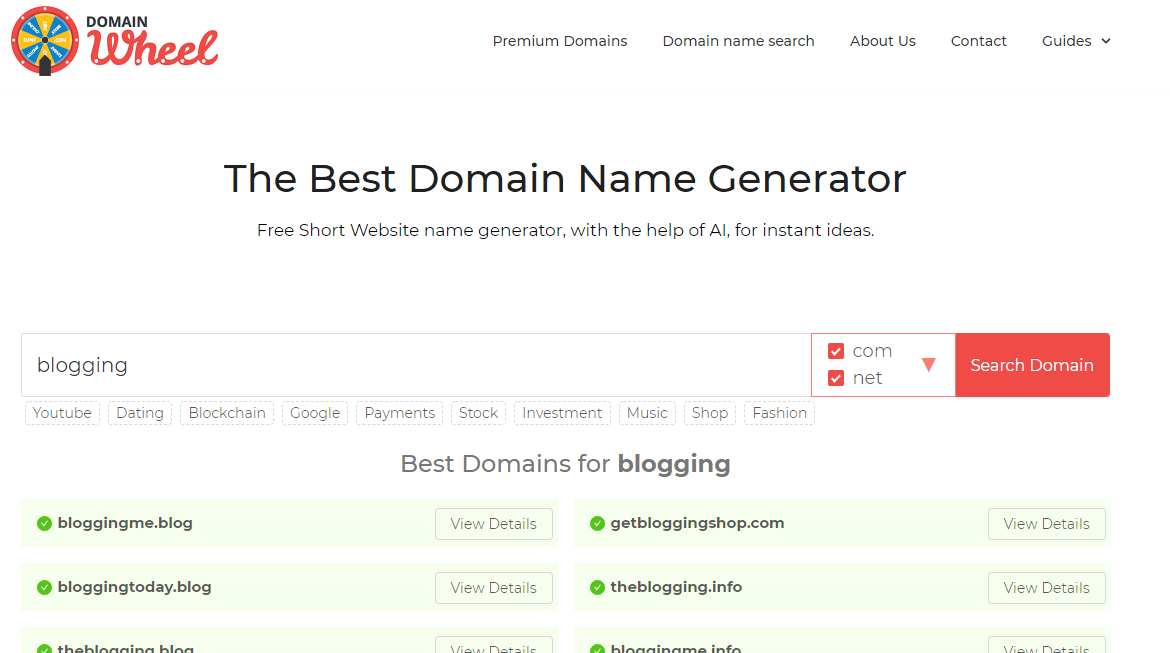 #STEP – 3
The name of the website is Domain Wheel. Select the extension according to your requirement.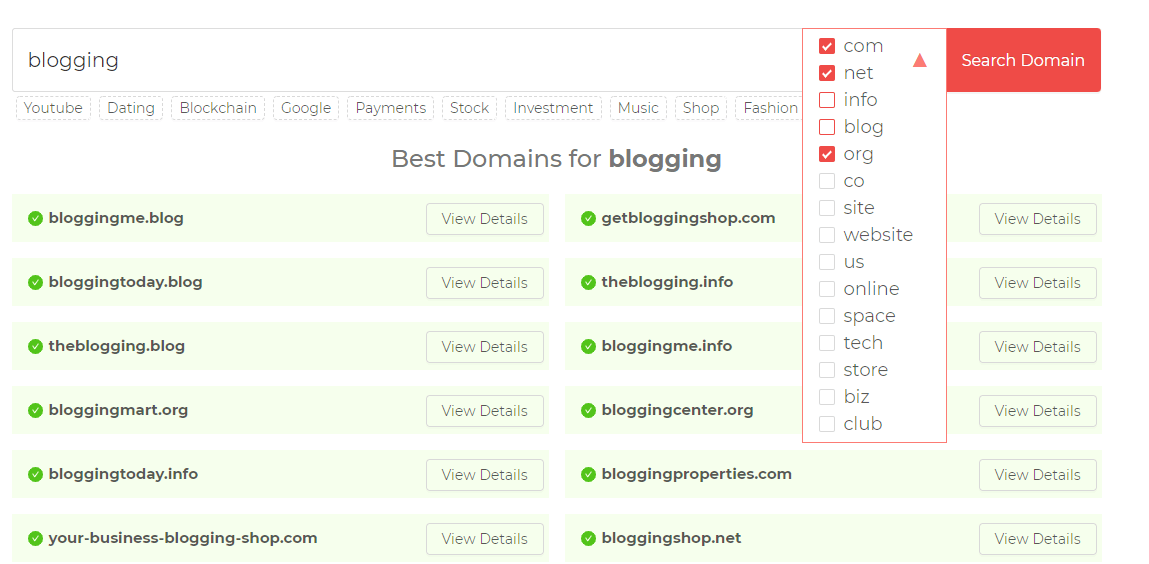 The benefit of this domain name generator website is it creates random domain names that are available to buy and it saves your time.
Now you go to any Domain registrar and Buy the selected domain name. If you are buying a hosting then you get a domain name for free from the hosting company, the guide is available in the next step.
Also Read – How to Buy a Domain Name
#2 Choose The Best Hosting For Your Site
Now you selected a domain name for your blog. Now a question surrounds in your mind how i add content to my website or list on google.
Don't worry the all query answer is available in this post.
Your first question how I add content to my blog for this you have required to connect your blog/website into a host.
What is Host?
Every website or blog has a host or hosting. You can say hosting is the space where a website stores all data. When some user ping that domain the data will ping from the hosting server and display to the user.
Now you underestand the real need of a website hosting. I prefer if you are starting a blog or website then buy a hosting becuase it boost up your website performance as well ranking.
IF you are new in blogging then I prefer your start your journey with shared web hosting.
How to Choose Which Hosting Perfect For your Website or Blog?
Web Hostings are divided according to user requirement –
Dedicated Hosting
VPS Hosting
Shared Hosting
Dedicated Hosting Means your website will host on the whole server, it means you pay for a dedicated server. No other websites are availabe on that server only your website is available on that.
VPS ( Virtual Private Server ) Hosting means you will configure the server according to your need you will root your server or install any os according to your need and share with others. It Handels 1000-1000 Visitors a Day.
Shared Hosting is the best hosting for beginners because any beginners can afford this type of hosting. The above two hostings are costlier and a beginner cannot afford it. You can buy a Shared Hosting in $0.99 – $3 for a Month from Hostinger. If you have some high budget then go for A2hosting. It Handels 100-500 Visitors a day.
I think now you understand which hosting is right for you. If you buy a premium plan of any hosting then you get a free domain for 1 year.
Now watch the below video how you point your domain to hosting, if your domain and hosting provider same then you skip this step.
I think you understand how you do if don't then follow steps –
Open Hostinger Dashboard
Now Click on Hosting available on the menu.
You see "+Add Website" click it.
Now you put your domain name and password.
Open your domain registrar and change the DNS of that domain which was provided by your host.
Wait for 24 hrs your domain will point automatically.
Why I Choose Hostinger For My Site?
When i start my blogging journey i saw so many hosting providers are there but every providers the hosting price is high but only Hostinger gives a Cheap Web Hosting.
My second reason to choose hostinger is I already used this provider when it gives free hosting to users. From that time I saw the efficiency of hostinger servers. I already see their features like free SSL , Free hostinger CDN or more.
Some Key Features Of Hostinger
1.Better Service in Low Price – If you check the pricing of Hostinger plans then there is a big difference from other proviers.
2.100 % Money back Guarntee – Every user before buying a new hosting service he/she has some fear. If that provider gives bad service then my investment will go into loss. To remove fear from Newbies Hostinger gives 100% Money-Back Guarantee ( You can cancel your hosting in 30 days ).
3.Hostinger Domain For Free – If you buy any hosting (excluding Single plan) then you will get a Freed domain name from hostinger as well a Free SSL.
4.Hostinger Cloudflare CDN – If you buy a hosting from this then the hostinger team will give free cloudfare cdn for one domain.
#3 How to Install WordPress On Hostinger
If you completed the above two tasks then your 70% of work is completed. Now the main point comes how to install WordPress on your host.
I will show you how you install WordPress on Hotinger Account :
STEP – 1
Open Dashboard and click manage.


STEP – 2
Now scroll down and search for Auto installer and click on that.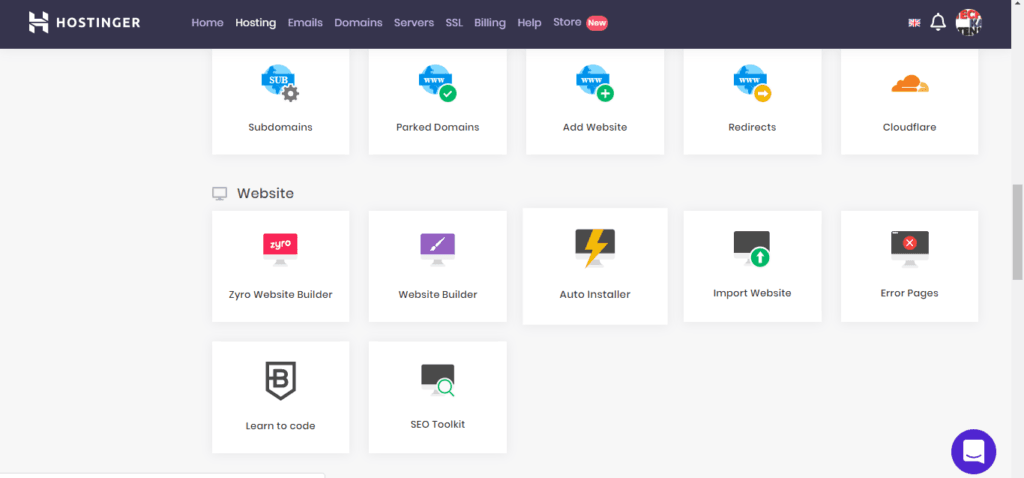 STEP – 3
You see so many cms are available but search for wordpress and click.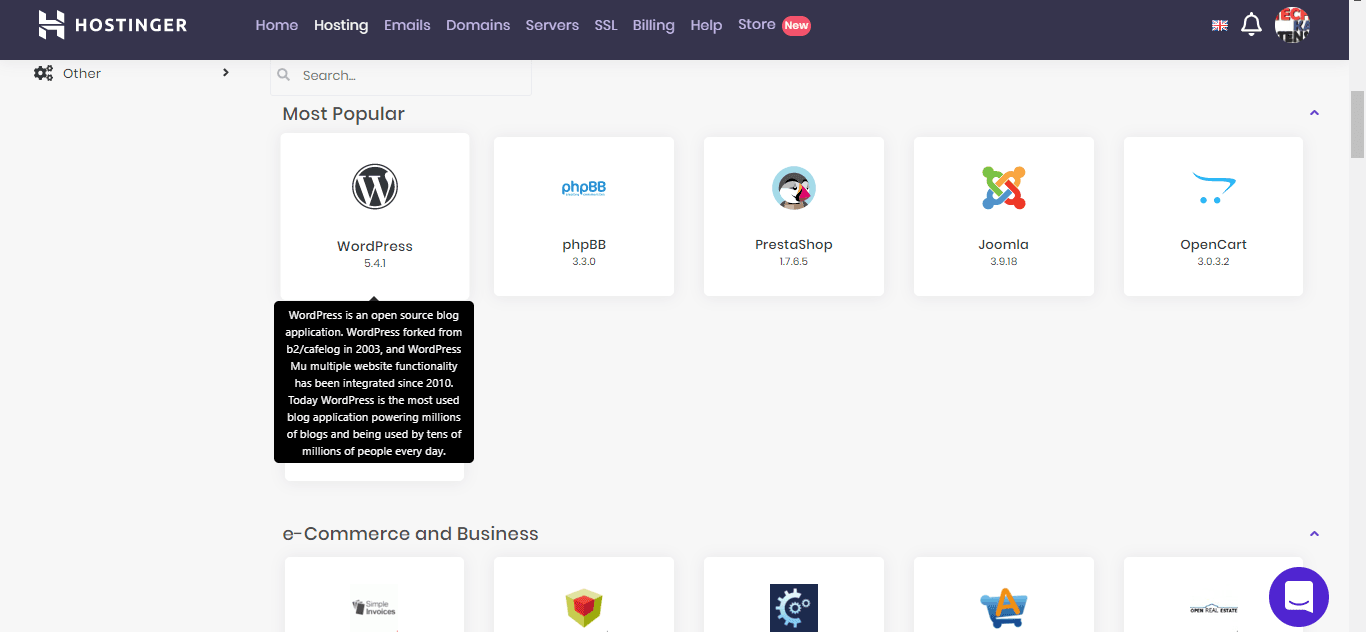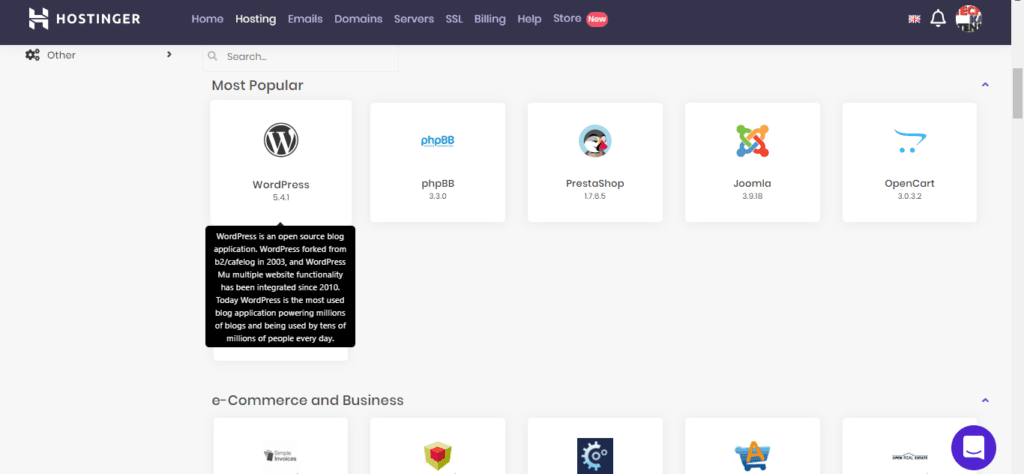 STEP – 4
Now fill your Admin username, password, website title and mail and click install.
Congrats….WordPress is Successfully Installed on Your Host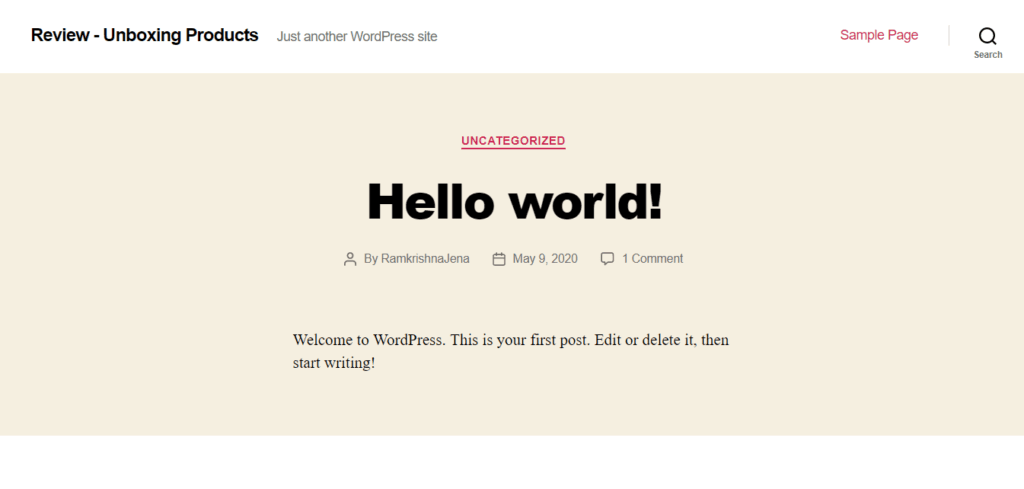 #4 Best WordPress theme for Comprehensive design
Wordperss theme is availabe for free and paid in WordPress. If you purchase a paid theme then you get some extra customization features on that.
Some Popular fast WordPress Themes are –
My main motive to choose the above theme is you can customize easily and the speed of the theme is good. Googles Ranking Algorithm Says if your website speed is good then the chance of ranking on google is High.
#5 Customize Your Blog
If you want to make give your site professional look then you need to use a Page Builder which gives a profesional look.
I use two popular page builder 1.Elementor & 2.Thrive Architect
1.Elementor
Elementor is available in free version and paid version. If you go with free version then you dont get many blocks to customize.
Elementor Free Vs Paid
Feature
Elementor
Elementor Pro
Template Library
✓
✓
Export / Import Templates
✓
✓
Mobile Editing
✓
✓
Shape Divider
✓
✓
Video Lightbox
✓
✓
Box Shadow
✓
✓
Text Shadow
✓
✓
Background Overlay
✓
✓
Hover Animation
✓
✓
Entrance Animation
✓
✓
Heading
✓
✓
Image
✓
✓
Text Editor
✓
✓
Video
✓
✓
Button
✓
✓
Image Box
✓
✓
Testimonials
✓
✓
Icon
✓
✓
Icon Box
✓
✓
Social Icons
✓
✓
Image Gallery
✓
✓
Image Carousel
✓
✓
Icon List
✓
✓
Counter
✓
✓
Progress Bar
✓
✓
Tabs
✓
✓
Accordion
✓
✓
Toggle
✓
✓
Alert
✓
✓
HTML
✓
✓
Shortcode
✓
✓
Menu Anchor
✓
✓
Sidebar
✓
✓
Google Maps
✓
✓
SoundCloud
✓
✓
Divider
✓
✓
Spacer
✓
✓
Columns
✓
✓
Background Gradient Effect
✓
✓
Revision History
✓
✓
Blank Canvas Template
✓
✓
Maintenance Mode
✓
✓
Page Settings
✓
✓
Element Hover
✓
✓
Redo / Undo
✓
✓
Forms
x
✓
Slides
x
✓
Posts
x
✓
Portfolio
x
✓
Embed Anywhere
x
✓
Global Widget
x
✓
Custom CSS
x
✓
Pro Templates
x
✓
Price Table
x
✓
Price List
x
✓
Countdown
x
✓
WC Products
x
✓
WC Elements
x
✓
WC Categories
x
✓
WC Add to Cart
x
✓
Flip Box
x
✓
Masonry Layout
x
✓
Blog Pagination
x
✓
Ken Burns Effect
x
✓
Share Buttons
x
✓
Form Integrations
x
✓
Login Widget
x
✓
Animated Headline
x
✓
Facebook Widgets
x
✓
Blockquote
x
✓
Nav Menu
x
✓
Media Carousel
x
✓
Testimonial Carousel
x
✓
Call to Action Widget
x
✓
Custom Fonts
x
✓
Header & Footer builder
x
✓
Dynamic single post & archive page design
x
✓
ACF & Toolset integration
x
✓
Scrolling Effects
x
✓
Popup Builder
x
Elementor Free Vs Paid
If you have a budget then I suggest you buy thrive architect page builder which gives you a comprehensive page builder and that gives complete advance level customization.
2.Thrive Architect
If you want to create a unique layout for your site then the best alternative of Elementor is Thrive Architect.
Key Features Of Thrive Architect –
It Supports All WordPress Theme.
Easy User Interface
More Customizable Block
#6 Write Your First SEO friendly Blog Post
In WordPress, you don't need any coding because they give prebuild blocks. You can change the font color, add an image, or more in a click.
After WordPress latest update you get two editors Classic Editor and Block Editor (Gutenberg). Both classic editors are so easy to use and you can create your post with modern look without any skill.
There is two editors available for you but you need to know the right one for you …
Classic Editor
Classic editor is available for WordPress from the beginning of WordPress. Classic Editor Block looks like Below pic –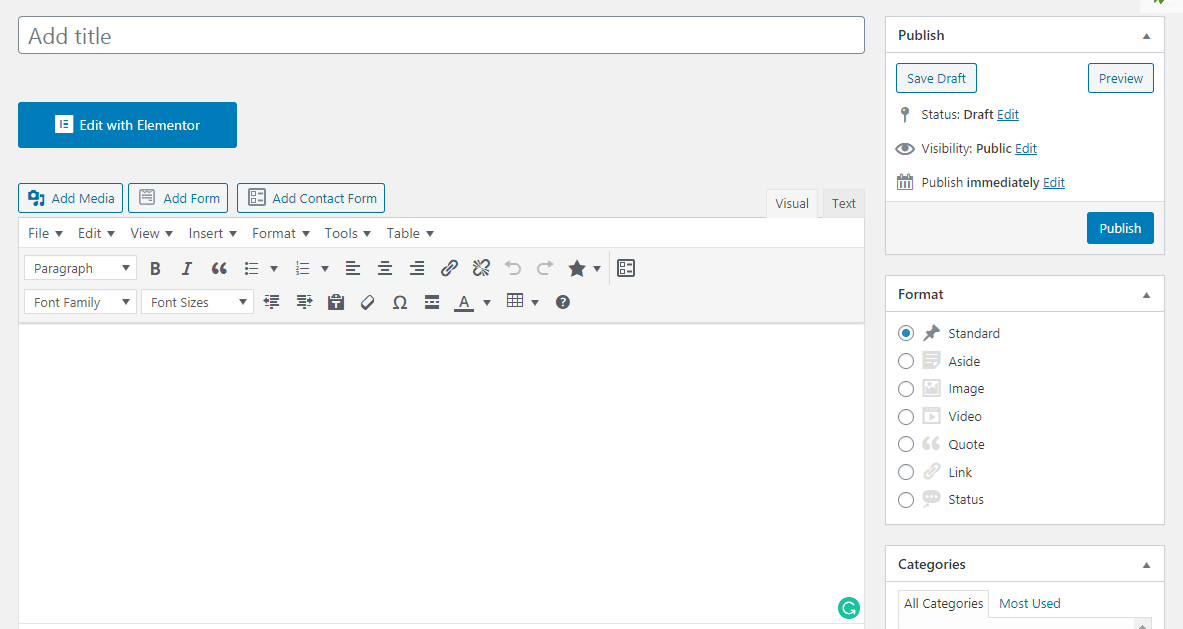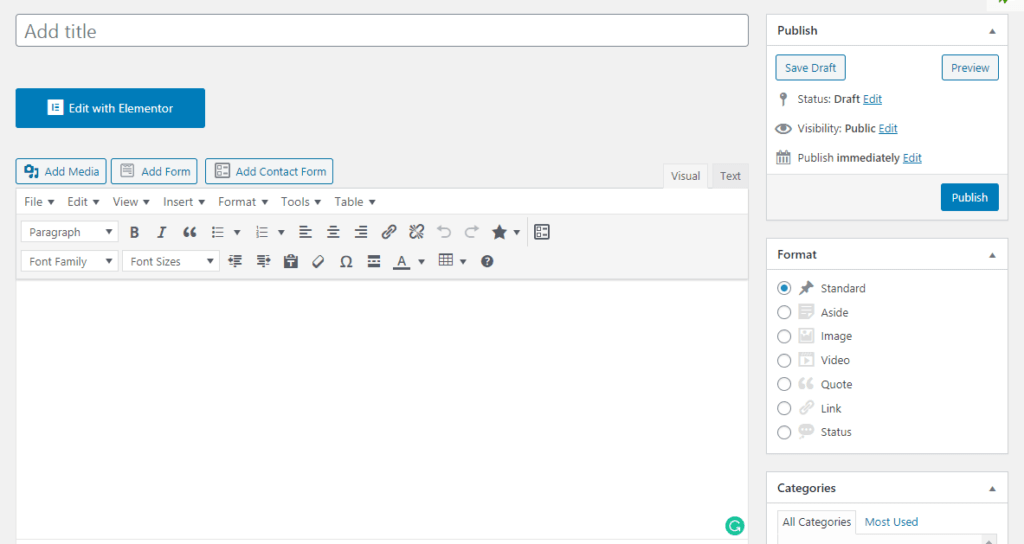 If you use ms word then the classic editor is the same I mean all features. You will add your material to your post in a classic way.
If you are feel easy to use Ms office then i suggest you use Classic Editor then you feel friendly when writing a post.
But there is a problem now WordPress change their default Editor From Classic Editor to Block Editor.
Don't Worry If your are want to classic editor then you use by installing two pugins Follow the Step –
How to use Classic Editor in WordPress?
To chnage your Block Editor in classic editor you need to Install two plugins.
STEP -1
Open Plugin section and Search for Classic Editor & TinyMCE.
STEP -2
Now install and active both plugins.
Congrats Now you installed Classic Editor in your blog. Now you will get all features of block editor in the classic editor.
Block Editor
Block Editor comes in WordPress after its 5.0 update. The best feature of this block is you will modify every block according to your need. Block Editor converts your every section into a separate one and it helps you to do modification easily.
For example, you write a paragraph and you want to change the color of the paragraph then you don't need to select the full paragraph you only select that particular block and change color.
TIP TO WRITE SEO FRIENDLY ARTICLE
The best part of WordPress is you get lots of plugins that reduce your workload. This plugin will check your written post must be optimized with on-page metrics.
An SEO plugin That helps you to optimize your post as well as Website ranking. The name of the plugin is Rank Math.
What is Rank Math?
Rankmath is an SEO plugin that helps you to make your websites SEO smoother. There are some parameters available in on-page when you write your post.
Rank Math match all parameters of a post like Main Keyword in title, url and in heading or more. If you miss any one of this then rank math display you you forget put your keyword in that section.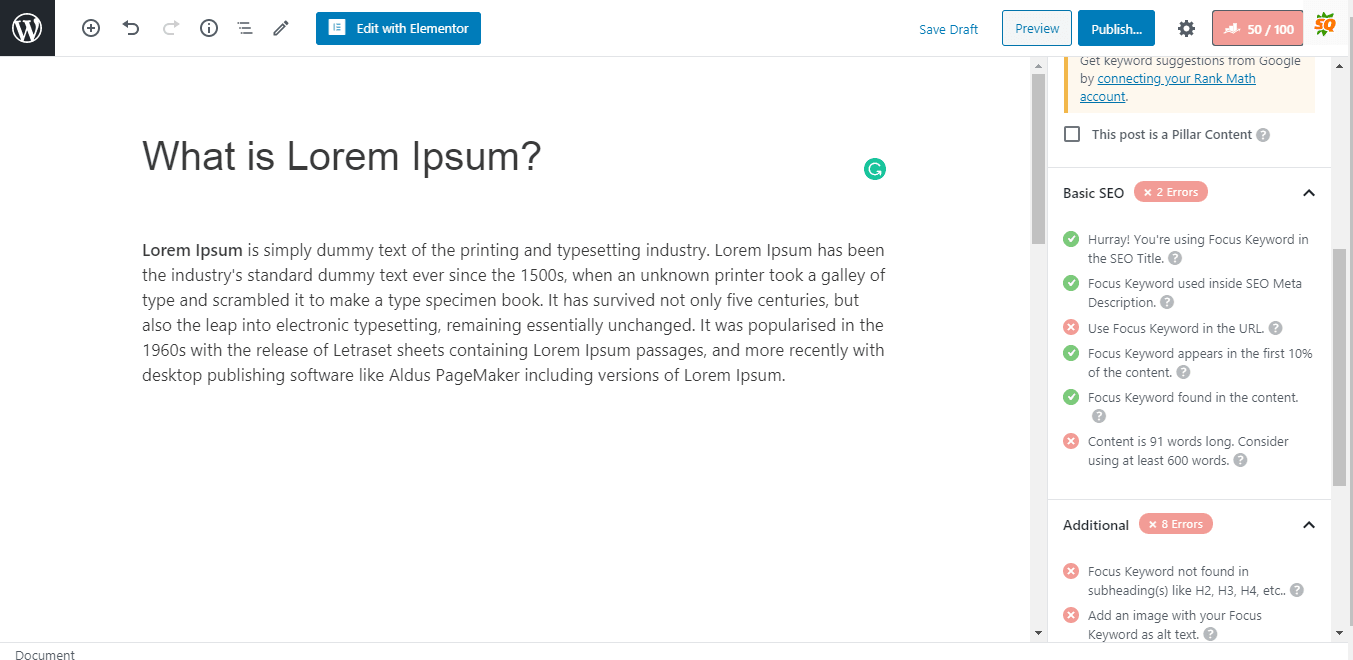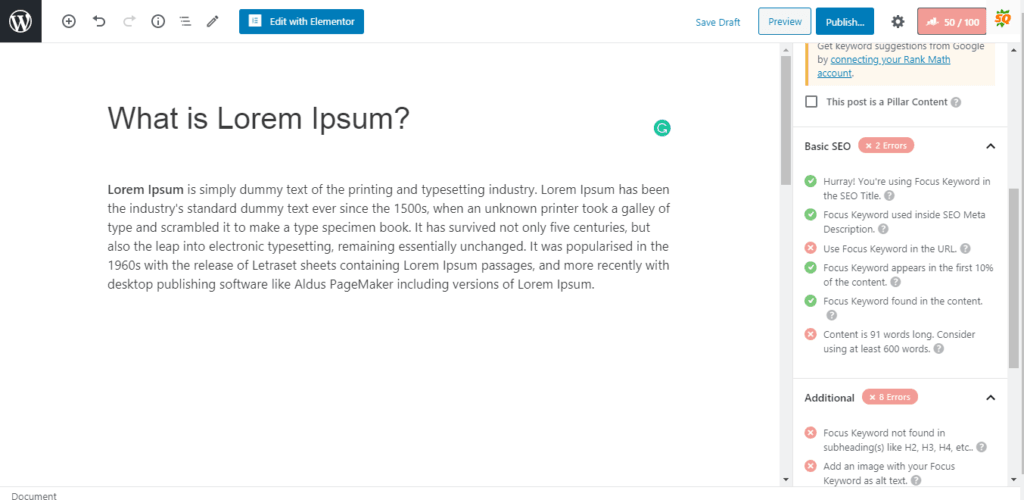 #7 Plugins You Install Which Accelerate Your WordPress Blog
The toughest point of google is Page Speed if your website doesn't have good speed then your post never ranks on google because you get a high bounce rate.
If you are newly starting your blog or your website doesn't have good authorities in google then you use AMP pages which load your WordPress site faster.
AMP in Short – Amp means "Accelerated Mobile Pages" and these pages are lightweight and fully HTML pages. It converts your pages into simple HTML pages and your pages load faster. Best WordPress Plugin for AMP is "AMP for WP". If Your website has an AMP page then you check by Typing "Yoursite.com/amp".
#8 Link Analytics and Search Console to Your Site
For a sucessful blog you need a proper analytics of your blog. The best analytics platform is Google analytics. You can connect your Website in to Google analytics simply using a pugin.
The best plugin or official plugin of Google is Google Site Kit. To simplify the work of the bloggers google launces a official plugin which is Google Site kit. This plugin connects with your google account and link Google analytics as well Google Search console in one Click.
#9 Some External tips Which drive lots of traffic to your Site
If your bog is minimum 6 months old then the traffic will drive automatically to your blog but the newbie bloggers face zero traffic issues. So today I give some tips which help you to drive traffic in your starting time.
My favourite source where you can drive a good amout traffic that is Quora.
1.Quora
Quora is a question-answer website where users are asks or give the answer to questions. If you are an affiliate marketer and you don't get targeted traffic from google then the best source is Quora.
Already I explain if any user has doubt then he asks on quora. You can use your expertise on that blog and gain Convertable traffic from that.
As an Example – If a user asks about "How to Create Blog" then you attend that question and explain about the blog and give reference to what materials need for Blogging (insert your affiliate website link ). If that user satisfaction with your answer then you definitely generate a lead.
2.Google Question Hub
Recent google launch google Question Hub for the askers. It is also the same platform but it has two benefits because it is a product of google. If you write an article by targeting some user's questions intent then you increase your authority on behalf of Google as well as generate convertible traffic.
#10 How To Monetize Your Blog
Congratcs You had created a Money Making Blog…..
Now you thinking how to monetize your blog. There are so many ways there to monetize a blog but i will explain the best ways to Monetize a Blog.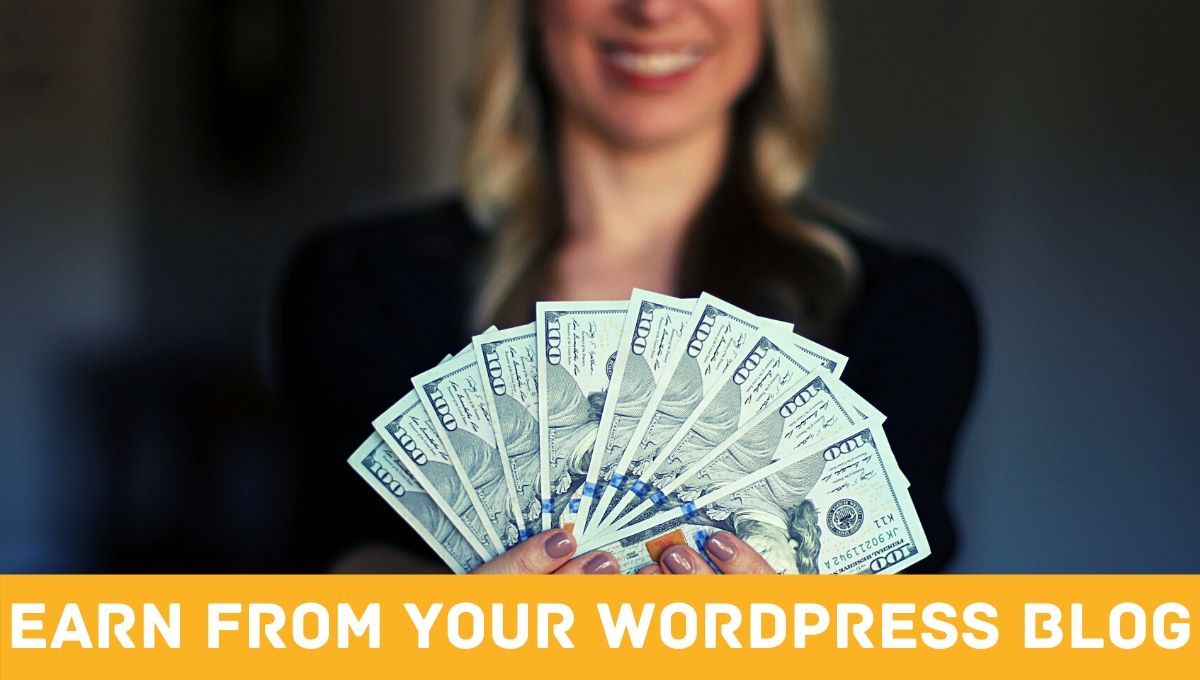 If you really dedicated to your blog then this methods will work. There is no way there where you earn lakhs of rupees in a night or make money in a day.
You saw so may peoples are incoming lakhs of rupeed in a day. But you don't know they put their own effort from a long time then after they getting this kind of result.
So Lets Start….
Most of the bloggers prefer content monetization by ad network but I don't because you need an enormous amount of traffic to make a good income using an ad network.
Now You think so how i earn From my wordpress blog, the answer is Affiliate Marketing.
1.How to Monetize Your Blog With Affiliate Products
The funda of affiliate marketing is you will refer a product to an individual if he/she buys then you make revenue.
Most of Blogger use this Money Making methods to earn their 80% of revenue. Because most of cases you get $100 for a single sale.
The real life example is if your friend buy a new connection of DTH with your reference then you get a free bonous of 100 to 200 rs.
Now you think what qualities I need to be an affiliate, then the answer is you need a little bit of knowledge about that product you promote.
You can join your niche or interested related affiliate Programs. There are so many affiliate programs are there where you join and earn good revenue.
I suggest if you want a good conversation in your blog then you promote that product you use then there is a chance of more conversation.
From this Affiliate you find you niche related Products
Amazon
CJ Affiliate
ClickBank
From above three affiliate programs you can find you nich related products.
2.How to Monetize Your Blog With Ads
Ads which is the best method to earn from a blog it is good when you get a good amout of monthly visitors to your website.
The best platform to monetize your blog is Google Adsense. Before adding ads of Adsense you need to apply for Google Adsense Approval.
After applying adsense the adsense team checks is your site is eligible for adsense or not if eligible then you get approval from adsense.
Now you need to put a script in your WordPress blog and your ads will start running on your website.
Remember if Your website getting a good amount of traffic then you use adsense because Google adsense's Paying Model is CPM and RPM.
RPM (REVENUE PER MILE) – When your website get 1000 impression of ads then google pays for that.
CPC (COST PER CLICK) – In this model Adsense will pay you for every ad click and your earning will vary according to the bidding of the ad.
How much i earn from a WordPress Blog?
It depends on which platform you used to monetize. If you use affiliate marketing then you earn more according to adsense.