If you are a smartphone user then you definitely have multiple social or other accounts. And you searching for how you use multiple or second accounts on a single device then here is the solution.
I know in this modern cutting edge everyone has multiple accounts it may be social accounts or any other. Today I will give a table of 9+ Best App Cloner for Android / IOS.
In the world total, 3.5 Billion smartphone users are there and I know most people are don't know What is app Cloner & how-to-use on a smartphone. If you are from them then read the article to clarify all doubts regarding that.
If we compare the 21st century then most of the smartphone brands fit their own app cloner which comes with limited app cloning features. But in this article, I will explain 10+ Best App Cloner for Android or IOS.
I know you facing the issue and want to clone your apps so read the full article to clone your favorite app according to your wish.
If you know about app cloning then you must try some apps but some apps create an error if you clone more than two.
What is App Cloner?
App Cloner is an application that is essentially designed to make a duplicate of the base app and the duplicate app works exactly like the base app.
The app cloner is available for android and ios and the apps give you a platform where you manage your account on one device.
Some apps don't allow you to use multiple accounts on one device but the cloning app allows you to use multiple accounts on one device.
The best thing is you can use this apps on emulators which will clone your apps like other devices. Are you want to use Whatsapp on your desktop or laptop without installing whatsapp software.
How app Cloner Works?
The app cloner creates a copy of the base app and installs it with a different name to differentiate between base and clone app.
Now take as an example the Facebook app is available in a device and the app cloner clones Facebook and installs it with a different name ex- "facebook1".
Have you Lost your Phone then Lets Go to Find
Is App Cloning is Safe?
Already I explain how app cloners work and there is no problem to clone your app on a device but I suggest you use apps that verify from the play store or download from a verified source.
Top 3 Highlights of App Cloner or Duplicator
Unlimited Multi-Accounts.

Switch Between Different Identities.

Double Your Fun By login with Different Accounts.
---
9+ Best App Cloner for Android or IOS (2021 Guide)
Are you ready to clone number of apps using the cloner Android app? So resume reading to knowing about different cloning apps.
1.Dual Space – Android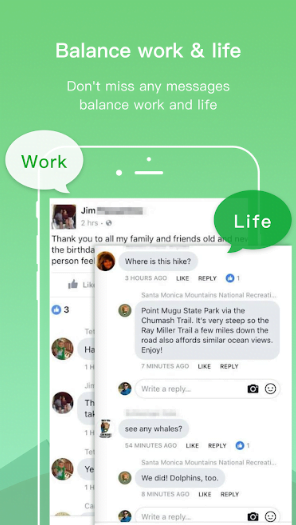 Dual Space is available in the play store for free and the total downloads of this app are 100M+ so obviously it is a good app for cloning android applications. Now we look for the features of this app and what apps we clone.
The most important feature is it fully supports WhatsApp cloning some cloning apps create some errors when we clone apps but these apps don't create any issues. You can create copies of most of the play store apps.
If you are searching for apps that can share your files from your device to your friend's device without using your data then you can read the list of best file sharing apps.
Highlights
Best Light Weight App and this is available in both full and lite version.
Easy to use because of its Simple Interface.
Quick Cloning and consume low cpu.
Download – Dual Space
2.Parallel Space – Android
Parallel Space is the King of cloning apps this app has serves many features to users for cloning and this app has a rating of 4.6 stars and 100M+ downloads available in the play store.
You can clone any app using parallel space but some apps create a launching issue if we clone using parallel space. For smooth running of apps, it provides a booster in space.
Highlights
It runs all applications smoothly and you will easily swipe from one to another.
More customization feature.
Download – Parallel Space
3. Do Multiple Accounts – Android
This app is available for Android devices and you can install it from the play store it is free to download. You can clone one app into numbers of the app but this app gives you a booster that clears your device cache with one click.
Highlights
Privacy Locker to secure your clone account.
Manage notification of cloned apps.
Download – Do Multiple Accounts
4.App Cloner – Android
App cloner is available in both free and paid, if you choose free then it displays ads in the app but if you purchase paid then no ads display. You can download it from the play store. This an average app for the cloning of android apps.
Highlights
You get custom Add-on.
Premium Subscription For extra support.
Download – App Cloner
5.Dr.Clone – Android
The tag line of this app is "one phone two accounts" you can belive this app for the cloning process, this app has 4.2 ratings with 500K downloads. You can dont worry about its security because this app is designed by trend micro Incorporated which is an antivirus company.

This app also has a liter version for low specific phones the app name is "Dr.Clone 64bit". The review of this app is good so you don't buffer about your safety.
Highlights
Official Trend Micro Products.
Protect Your Private space with Security.
Download – Dr.clone | Dr.Clone 64bit
6.Parallel Space – iPhone

You get all the features the same as android parallel space but the tiny thing is you can download this from app store.
Highlights
Protect Your Privacy with Lock.
Ads free.
Download – Parallel Space
7.Multi Social- iPhone
Now Everyone has more than 1+ social accounts or other accounts. That's why everyone searching for app cloners and multi-social is best app for app cloning.
Highlights
Easy to use
Light Weight
Consumes less space
Passcode Feature
Download – Multi Social
Conclusion
If you have multiple accounts and want to run all accounts or apps on your phone then the best app cloning will help you a lot.
Clone your favorite apps and enjoy them. If you have any kind of question then feel free to comment and it's my guarantee I will reply back your comment.
How do i Clone an Android app or ios app?
You don't need any coding knowledge to clone an app, just visit play store or app store and search for app cloner.
After successfully installation open the app and after few click the cloning will complete.
Am i Clone Games using App cloner?
Yes you can but there is a problem some apps don't allow you to clone games but few apps are there which allows, so you need to check.