In the 21st Century smartphone is a basic need of every people, and some people have more than one mobiles. If your smartphone is lost because of your or another's fault then don't worry I got the solution for you.
You can easily navigate your phone location with GPS.
Different phone companies avail varieties of services for the user to track a stolen phone. In this article, I will briefly explain how to find your lost phone with GPS with the help of phone companies or different third-party apps.
If you are using a smartphone then don't worry there are many methods there, using these methods you definitely found your lost phone.
There are some difficulties arrises to find if you are using a featured phone because you can track using the IMEI number of your featured phone.
How to Find Your Lost Phone with GPS?
Now the Smartphone manufacturers adding new features where you easily locate your phone location on GPS or Google maps.
In 2013 Google launched her service with the name find my device, where you can locate your device location on Google Maps. Apple also her own service for ios users where it launched in 2010 with the name Find my iPhone.
Now I will explain Using GPS how you find your lost smartphone. If your device is connected to the internet then my explained methods will work otherwise not.
In my suggestion, if your phone lost then go to the police station at first and put a missing complaint. The second thing is don't forget to take a copy of your Fir.
The fir copy will help you to block your smartphone if you don't found.
Simultaneously you can follow below steps to find your device with GPS.
Techniques To Track Phone
There are three techniques to track a smartphone, first one I will explain already, by filing a complaint in the police station.
In both phone tracking, method use Digital Maps and Google will use her own map and ios will her own
1.Android Device Manager (ADM)
This app is developed by Google and you can use this service on android devices for searching your device. ADM is specially designed to locate an android device's exact location.
Android device manager or ADM works using google account and google maps. In every Android device, ADM is installed through google.
Using Android device manager you can ring your device, lock your device or make a factory reset of your stolen device.
Steps to track
1.You can easily track your android device using ADM, the android device manager tracks your device using the GPS of the device.
2.If your phone is lost then in any browser search Find My device.
After clicking the google login bar opens login using your email (which was log in to your lost phone).
3.Now you get the plain interface of ADM. Where two sections are there. On the right side your smartphone location display and the left side your device an option to retrieve your lost device.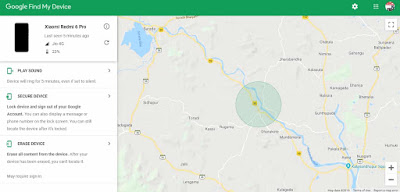 4.In the left side, you get three options "Play sound", "Secure device" and "Erase device".
5.You can use the play sound option to ring your device for any reason your mobile has no network, or phone in vibrate, silent mode then your phone will ring for 5 minutes.
6.After the ring, if you don't get your device then you can lock your device for your privacy security reason.


Finally, if you don't found your device then the final option is used which is to Erase your device. If you click erase your device then your device will make a factory restart automatically and your all private data will erase and your device is locked with FRP.
What is FRP Lock in Phone?

Factory Reset Protection FRP lock means Factory Reset Protection which is a new security feature on android phones. Once FRP is activated, it blocks use of your smartphone after a factory data reset, till you log in using the same Google username and password you previously set up on it
The Best feature of ADM is you can check the last seen time, the last location, secure all data easily, etc.
Best app Cloner Review where you get the best cloners which will help you to use clone your favorite app.
2.Find My iPhone
If you are using ios device then don't worry about it because also ios provide a service to track a stolen device which names as "Find My IPhone".
First thing you have to do File a fir in the police station and they can try to find your device.
You know how much secure an iPhone, its tracking service provides the same feature as well android device manager. You lost your phone somewhere or it stole then don't worry use this app and securely find your device easily.
Steps to Find
For tracking Your iPhone you have open Find My iPhone app in other smartphone using your apple id or Browse this link and log in using your apple id.
After Successful login, your all ios device list display and choose that one which was stolen or lost.
Now you got your device status either it is offline or online, and three options to secure or find your device. Three options are "Play sound", "Lost Mode" and "Erase iPhone".
You can ring your device for some minutes to find your device if it is available near you or the phone is drop in some awkward place then by hearing the sound someone will get the device.
The Lost mode is available to receive your location data to apple server and display in find my iPhone app, to know where is your device. Another feature of this option is it locks your device to secure from others.
The last option is available to erase your device and securing all private data from another person or thief. I prefer if you police will fail to locate your device then use this option.
One disadvantage of the last feature is if you erase then your all data will erase as well your iCloud account will erase. The disadvantage is if your iCloud is erased then another person can use your device easily.
Final Thoughts
To secure your phone always try to on your phone location or GPS. The second thing is after losing your phone login into your account and put an FRP lock to secure your personal data.
If you have any question then comment below without hesitation.