Matrimonial app and matrimonial sites are work as a mediator for groom and bride. Many peoples are using matrimony websites to search for the right partner for him. If you genuinely desire to grasp the 3+ Best Matrimonial Apps in India to search a perfect partner for you?
Lets Start….
3+ Best Matrimonial Apps in India
1.Bharat Matrimony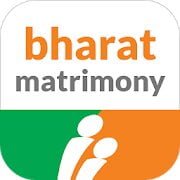 Bharat matrimony is the first matrimony website in India. It is the most popular app in India and its total play store download is 5M+ with 4.2* rating. It is a fully trusted Matrimonial site. In this app, you get millions of suggestion and its experience is too good.
You will start searching a partner for you by signing in bharat matrimony app or site. To get better suggestion you need to fill your personal details which helps bahara to identify the best match.
The best experience of this app is it matches the interest and activity to identify the best one for the user. From suggestion, you check any users bio in detail.
Most of cases they uses interest as well GPS location to simplify your effort. This feature add this into best matrimonial apps in india.
This app has personalized matchmaking two sections "Elite Matrimony" & "Assisted Matrimony". In Elite MatriMony section is designed for affluent class or for rich category peoples to find similar partners. Assisted Matrimony section is helpful to find personalized matchmaking.
Bharat Matrimony app is available for ios, android & windows. This app is free to download and you get a benefit of live chat-based customer support. It has pad membership where you explore some special features.
Features Of Bharat MatriMony –
Nearby Best Suggestion Using GPS.
100% Secure your data.
Refine result using its advance filter & save favorite for future viewing.
It is a Global platform to Choose Partners.
20+ year trusted Matrimonial Site
Also Read – Best Youtube Alternative to Make Money Online
2.Shaadi
Shaadi is also a matrimonial app where peoples search for life partners. Shaadi.com claims it was no 1 rated matchmaking app in India and pushes new matches every 2.4 seconds. If you visit their website they have 5 Million plus success stories available.
To start searching a life partner in shaadi app you go with three steps
SIGN UP > CONNECT > INTERACT
This app is just not matchmaking Indians but also it connects to NRI. If you want to find a partner using filter then an advance filter option is available.By putting your language, age, and religion, you filter out the odd one. You will control your own profile with all security and you make instant message with your select.
You will connect by filtering these
By Mother Tongue – Bengali | Gujarati | Hindi | Kannada | Malayalam | Marathi | Marwari | Odia | Punjabi | Sindhi | Tamil | Telugu | More..
By Religion – Buddhist | Christian | Hindu | Jain | Jewish | Muslim | ParsiSikh | More..
By Community – Agarwal | Arora | Baniya | Brahmin | Gupta| Iyengar | Iyer | Kayastha | Khatri | Mudaliar | More..
Features of Shaadi –
Send Personalized Instant Message.
Smart Filter to Search.
3 Click Account Setup.
3.JeevanSathi
Jeevansathi is third best alternate matrimony app and this app has 100% safe for any user. Jeevansathi.com was founded 16 years back and its app is launched app 6 years ago in 26 June 2014.
In this app you will download for free from playstore or ios store. To start searching a partner for you by sign in for free. This app has large data base where you get best alternative to choose right partner.
In jeevansathi app you start by creating your profile and a desired profile you looking for. You will easily upload your photo in this app by uploading or direct clicking from phone.
When you complete the sign up and profile submission process you get match alert when any profile match.
Features of JeevanSathi –
100% Data Privacy Guarntee.
Free Sign Up.
Lakhs of genuine member ( By locality, language, religion )
It verifies all detail of all users.
4.Community Matrimony
Community Matrimony is the fourth best alternative for searching a right groom or bride for you. In Community Matrimony App you will create your profile for free and start researching a partner for free.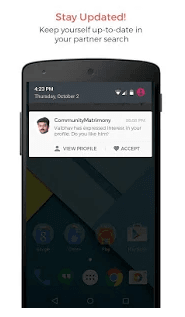 The best part of this app is you get an exclusive search filter that allows you to filter out your matching soul mates I mean your partner. Community Matrimony is available for android and ios devices and you download its app for free from its own app stores.
Features of Community Matrimony –
100% Privacy Protection.
Easily Filter Your life Partner using Filter Option.
Easy to Use because of its user-friendly interface.
Check Who Viewed your profile.
I already explained the best 4 matrimonial apps in India but if you don't get profit from that then I explain another best matrimonial apps in India.
5.Sangam
Sangam is the best alternative matrimonial app for you if you don't satisfy with the above matrimony apps. If you see any profile on sanagm app then you get all detail of your that and also that profiles family details also.
If any person register on sangam matrimony app then he/she need to fill their family details also and that is the best advantage for those who want to know about their partner and family details also.
Features of Sangam –
5+ Language Supports the Sangam App.
Register Your Account For free.
You Get lots of Community option to Filter out Your Choice.
ANDROID
Frequently Ask Question On Best Matrimonial Apps in India
Does matrimony sites help in partner search?

I do proper research and find three best indian matrimonial app for an indian users, so try above threee apps you get you partner definently.

Is uploading photos in matrimonial sites good or bad?

No problem because the all matrimonial sites takes care of your data and 100% privacy to all users.

How many Best matrimonial apps available in india?

In India there are so many apps available but i do research and finalize above apps which give you the right choice.
Final Words
I think these three best Matrimonial Apps is enough for you and all free to use. If we compare the user base of three apps then 20M+ users are register and active users.
If you get your partner using these apps then comment below and share with your friends to get knowledge about these matrimonial apps.