If you are an Indian then you must know what is the role of upi. Indian government tries to make India cashless and it appreciates online transactions. In India, many UPI apps there but Google Pay is different because of its features.

In this post you will get all information about Google Pay For Business, what is google pay, its charges and fees, and how to sign up for business account google pay.

Google Pay Launches in the year 2015 and any user can transfer her money in 3 sec using UPI, this is for normal users but google launches her business app which is Google Pay For Business.
Google Pay Business is launched for small business owners or merchants they can receive payments from her customers digitally. Google Pay made money transfer easy for her customers, any UPI customers can send money to any Business For Google Pay user.

Google offers varieties of cashback to her both users Google Pay users. In Google Pay Business you get "Good morning offer" and "weekly bonus offer".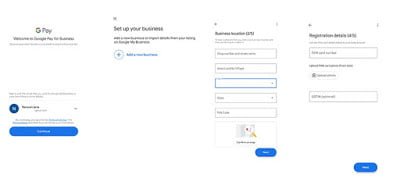 How to Create or Signup Google Pay For Business
Google Pay Merchant or Business account is easy to set up, any shop owner can apply for google business account easily bust some documents require.

To start the signup process of Google Pay Business account requires your PAN Card and any address proof only. Now follow the steps to complete your signup process easily.
STEPS
Select your personal email & click next. Now enter your Registered Business name, Shop name, type of business, MCC (Merchant Category Code), and final one business owner's name, etc.

After filling the above detail Gpay asks for your business location with map geotagging. Without geotag conformation it don't move for the next part of filing so geotagging is essential.

Now enter your phone number which number was registered with your bank account. Your overall registration is completed but the main document requires which is PAN card.

Enter your 10-12 digit  PAN number and upload the pan card front side image using your gallery pic or camera and click submit.
The last process for payment receive in GPay business in this part you will fill your account number and IFSC code to receive payment from customers to your account directly.
To verify your account Google send a 1 Rs to your account after that you complete your signup successfully.
Now your Business Account of Google Pay is Created successfully but you don't get the Offers from google pay Because google pay account is not verified.
How to Verify Google Pay For Business Account
If any Google Pay Business user wants to get profit from Gpays business account then they must verify her business account through google agent and any agent cant takes any charge for the verification process.
Any merchant can verify his/her business account using two methods 1. Online Verification and 2.Offine Verification.
1.Online Verification
The online Verification process is so easy and you can verify your account in 5 minutes. Online verification will be done using Google official video calling app Google Duo.
Click verify on Business Google Pay app and gpay redirect your Duo app and start a video call to Google agent.
Now agent will ask to reverify your Pan card and provide your address detail and move your camera in the shop.
After agent successfully verification of your all documents, your account will be activated in 5 minutes.
2.Offline Verification
Offline verification takes some time because at first, you will contact google agent through voice call then google agent will visit your shop and verify all documents manually. if your all documents are right then the agent will verify your account instantly.
Google Pay For Business Charges & Fees
If you create or sign up for Google Pay Business then google don't charge anything. In a month you will make transaction of 50,000 Rs using BHIM Upi.

In the future, there is a chance where google takes charges for every receive transaction from customers.
Google Pay For Business Offers
Google avails three offers for merchants and any verified merchant can avail these offers. The name of the google Merchants offer are Cashback on Verification, Good Morning offer & Weekly Bonus Offer.

Cashback on Verification in this offer you will get a 50 Rs cashback after successfully verifying your account. This offer is credited only once for all merchant users.
| Earn Money Easily By Shortening Urls |

Good Morning Offers the best offer for merchants, in this offer all merchants will get 11 Rs daily for everyday first transaction, and the transaction must be greater than 50.

Weekly Bonus Offer any merchant can call this is the best of ever, in this offer in a week the merchant receives a minimum of 15 payment to avails this offer. In this offer, the merchant will get a chance to win 5001 Rs.

Conclusion
As per my consideration, Google Pay for Business is a good option for merchants, in India most of the people use UPI apps and all UPI app supports UPI payment to any other UPI user.
Gpay app makes a smarter payment system and users must have an online payment system. In rural areas they don't afford any other online payment system that's why this system is Good.