If you have a blog or want to start a blog in the future, this article will help you to monetize your blog with Adsense. I know you are looking for an Adsense Approval trick, which eradicates your tension and gets approval.
Don't worry, you came to the right place, and after reading this post, you get an idea of why your website faces rejection or what changes need for approval.
So don't skip read the full post to clear your all doubt.
In this post, I will give you the Top 5 Adsense Approval Trick that helps you to approve your account in Google Adsense.
If you have already approved the AdSense account for your site, then congrats. In this post, I will also explain how you will approve a Blogspot free domain or TLD Domain using some little tricks.
Now the question is Which platform is best for beginner to start a blog or website. In my opinion, if you want to easier your blogging journey, then go with WordPress.
Go through my article for best and reliale web hosting so your blogging experience get smoother.
The second thing is Google doesn't distinguish what platform a blog is. If your blog content is rich, then you got a ranking. Google gives equal ranking on both platforms.
Blogger vs. WordPress, which is best for the newcomer ( A detailed Comparison ). You may read this if you want to get a detailed idea about the best Blogging platforms.
Google Adsense is the most popular and highest-paying ad network in the world, and so many bloggers monetize their websites using Adsense.
In this post, I will clear all doubts about Adsense, why the Adsense application rejects by the Adsense team, and what problems you face during applying for Adsense.
Most of the bogger earn more than lakhs of rupees in a month by using Google Adsense.
If you don't have a fully approved Adsense account, then don't worry. I will give you a definite solution on how to approve your Adsense account using Adsense Approval Trick.
Before guiding you, I give some simple question answers which may be arises in your mind.
Who is eligible for applying Adsense account?
If you have a domain name, then you are eligible to apply. It is the first criteria before applying the Adsense account.
The second criteria are quality content. I mean, your content must have unique, and the users will get some knowledge from that.
This post will explain what criteria if your website meets then they must approve your application.
After reading this Top 5 Adsense Approval Trick. You must approve your Adsense account and start earning from Adsense.
Get Start
Adsense Approval Tricks or Adsense Approval Guide
Hello, blogger or future blogger you are reading this post to know Adsense Approval Tricks. If you are planning to start a blog then you must read this What is a Blog? and how you easily purchase a domain.
If you don't know about blog and domain's then these will solve your all query and give you a pushup to start your blog quickly.
Adsense which makes numbers of application rejection in a day by Adsense team and most of getting rejections.
This guide briefly explains why your Adsense account got rejections and how to overcome those. If you already face Adsense account rejection then don't worry about I give you the top 5 Adsense approval trick to approve your AdSense account guaranteed.
Now some questions rendering in your mind, my website is hosted on Blogspot and google may not b give approval then stop thinking because google doesn't see what domain or hosting you have.
Google only judges your website must be user-friendly or SEO-friendly and your content must be unique and useful.
Even my few websites also hosted on Blogspot and I don't face any kind of problem with Blogspot hosting. The amazing fact is if your website is getting millions traffic then blogger can easily handle.
If you face any problems then I had created a Zero Coding Guide on How to set up a WordPress Website.
Usually, Google Adsense Approvers are bots but sometimes manual approvers also come. In a day a number of applications go to Adsense so don't be irritated if your application takes time, just apply for AdSense and do your work as usually.
Now you imagining so Adsense actually takes how many days to approve an Adsense account. Approval time maybe one day, three days or it may one or two weeks.
Day by day Adsense Approval team going strict because of some users. In the market approved Adsense account sells in some dollars due to this illegal activity Adsense team always cross-check every account and then approve.
If you don't know What is Adsense? & how does it works? then you must check the detailed guide, this guide helps to increase your earning of Adsense.
This Approval guide which is purely written after my Adsense approval experience, so after reading this post your account must approve if you don't approve then you must know the reason behind rejection of your application.
Steps to Approval
Make sure you must follow or understand because if you understand then you can approve numbers of Adsense account.
Actually, there are no certain tricks there only you have to require some usual steps to approve an AdSense account.
So I will explain all the guidelines of Adsense in some simple steps and you must implement those steps before applying Adsense for your website.
1.Connect Custom Domain
First, I discuss if your website is created in a blogger then how to approve.
Point number one you must have a TLD ( Top Level Domain ) or custom domain (ex – .com, .in, .uk, .co.in, .edu, … ).
Are you thinking I can't approve using the ".blogspot.com" domain, yes you can approve using the Blogspot domain but it takes time to approve & you don't create a personal brand in front of google?
Are you thinking I can't approve Adsense using a free domain or subdomain? Its answer is yes, but if you use a free domain then the control is not in your hand and the admin can delete the domain as per wish.
You can use the free domain as an experiment or learning of blogging and how google algorithms work. After some time you may shift to Custom Domain.
If your website is available in WordPress then you definitely look for the custom domain because WP doesn't avail free domains.
So I suggest you must buy a custom domain for a year & the custom domain profit is you can create your own website branding. Remember your custom domain must be in well-known extension ( .com, .in, .co.in, .info, .org, .edu,…).
To get traffic from worldwide you must have global domain like .com, .net, .in, .info, .org, etc.
If you choose a domain like .ooo, .tk then it affects your SEO ranking on behalf of Google.
You get a better idea if you know the importance of domain extension.
In the market, you get the most trusted, reliable domain name registrar like Godaddy, Namecheap, etc.
Now you have purchased a domain and you want to start a website in WordPress then you must purchase a hosting.
I suggest you buy Bluehost Hosting and the profit of Bluehost Hosting is it gives you a TLD free for 1 year. Connect your domain to your hosting it may be Blogspot or WordPress.
2.Compulsory Pages For Approval
I am talking about Contact Us, About us, Privacy Policy & Disclaimer. These pages create a positive faith in behalf of the Adsence team.
If you don't have these pages on your website then your application is rejected by Adsense Team.
You must see these pages link must be associated in the header, footer, and homepage also.
About Us Page
About us page which is necessary for a website because on this page the website detail like what is your website all about and some of your professional details.
Try to write a brief about us detail so users can understand easily your website.
Privacy Policy Page
According to about us page, the privacy policy page is most important because you will write a statement for your website users' security.
You can get a Privacy Policy statement from google, search "Terms & Condition Template" in google and copy and paste that page.
Some simple modification requires in Privacy Policy page i.e, Email and Website name. The privacy policy page doesn't come with copyright because it is the same for all websites.
There are so many auto-generate websites there that give you a full proof Privacy Policy page.
Disclaimer Page
The disclaimer page is most important because this page states that if some unintentional content was written due to some mistake of yours then it helps you to prevent that.
Contact us Page
If someone wants to contact a website user then they will get all the contact info like Email id, Phone number, etc.
Users can use this page to connect with you for any problem.
For Adsense approval, you must create these 4 pages, and branding these pages also important.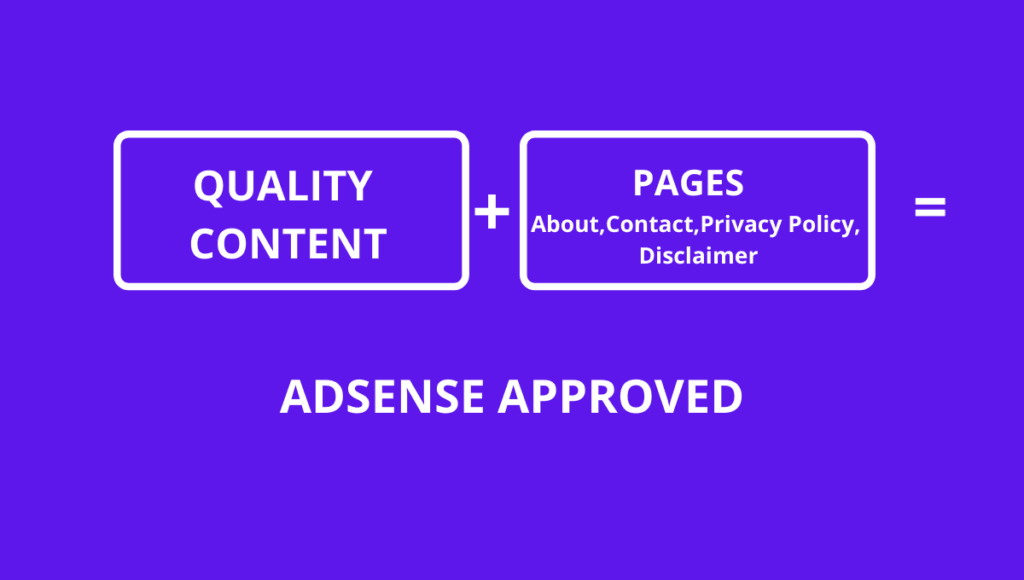 If don't know what you want to write in these pages then some website there which creates all pages in one click.
Optimize Website For Faster Loading
If your website loading time is much higher then the approval chance decreases, so try to use a lightweight theme for your blog.
You can use a free theme for Adsense approval, it doesn't arrises any problem during Adsense approval.
What theme you use doesn't matter, but you must remember the theme is responsive and Mobile Friendly.
For Blogger you can choose Free theme –
I am approved my blog using NewsPlus free theme and you can use it also. This theme is so stylish and you can use it for any niche website.
For WordPress, You Can Choose –
Both themes are responsive and you can use any one theme for your blog.
Google's 2020 Core update states if your website speed is not good then your website may not rank because users don't satisfy with your website and it creates a disappointment on behalf of Google.
Now Google Announced Officially is a Websites Speed also counted as a ranking factor after may 2021 update. It means if your site loads as compared to your competitor then you will get the benefit and google rank your post.
Social Media Profile
Social Media which is a large network in the world and to increase the trust you must have social accounts with your website name.
So Minimum Create two popular social platform Facebook and twitter & link those pages into your websites.
These create a social presence for your website. In the future, you can create a huge audience using your social profile.
Number Of Posts Before Applying For Adsense Approval
Already I explain about this is the second term before applying for Adsense. Google always wants good quality content for users.
Some users create a website and write one or two posts and apply for Adsense, this is the main mistake for her application rejection.
Before applying Adsense you must have 15 pus posts on your website with quality content.
You can write each post minimum 1000+ words and wait for all application index in google then after applying for Adsense.
After applying for AdSense don't stop writing posts and continuously post as per your schedule.
The best thing about Google Adsense is it doesn't require any kind of limited traffic, so if your website has zero traffic then there are no problem occurs for approval.
Buy Best Web Hosting for Good Website loading time
Hosting takes a huge role in website speed, if you purchase a hosting whose response time is high then it automatically increases your website loading time or speed.
The minimum website loading time is 2 sec and the maximum is 4 sec if your website loading time increase from 4 sec then it directly affects on your website.
A website loading time depends on Hosting and Theme.
If your website theme is good but hosting is not good then it slows down your website. So always try to use an optimized theme as well as good hosting.
If you are using Blogspot then you have only one option, use an optimized theme. I suggest the Fastest theme because I personally use and get 2 sec loading time.
If you are really serious about blogging then invest a minimum of $50. At this price you get a free domain as well Hosting.
100% Guaranteed Adsense Approval Trick 2021
This trick even I also apply for my Adsense approval, If you have newcomer and want to start blogging from a free subdomain "Blogspot" then start.
Before starting a blog in blogger.com you must consider below-given points because this strategy even I follow for this blog
First, decide Domain name and create a subdomain on blogger.
Now post 15-20 quality posts.
Now purchase a Domain name and connect with that blogger account.
Wait for 1 or 2 weeks to index your posts in google or index all posts using Search Console.
Now you can apply for Adsense.
I give you 100% Guarantee if you follow the above Adsense approval trick then your blog definitely approved by the Adsense team.
Keep posting your content until 3 weeks and wait for approval. I already explained google Adsense team takes time for approval so keep patience.
You can earn from your blog by using various methods and the best method as compared to AdSense is Affiliate marketing.
Now you know the Criteria and How to approve but my personal experience for fast approval where I got approval in less than 24 hours.
101% Golden Method to Approve Your site in Google with less post ( Personally Experimented)
If you are a beginner and want approval in less post then use this method I give you guaranteed your approval is guaranteed.
I personally experienced this with my one Hindi blog and I got approval in less than 24 hours.
If you need approval then follow below steps –
1.Search & Identify on which topics articles are less but peoples are searching for.
2.Write on that Topic
3.Now apply For Google Adsense
If you follow above steps then google understand actually you create the site to provide value to users and you help google by doing this, because of this your website get authority and you easily Adsense approval.
Some terms rendering in your mind like – ' how much I earn from Adsense in a month, how much traffic require to complete the threshold of Adsense'.
How much I earn – if we consider earning then there is no one can guess or consider the exact value for earning from Adsense, it totally depends on your website content and monthly traffic.
Complete the Threshold of Adsense – If you are a blogger then you definitely know about the Adsense threshold, it totally matters about your CPC (cost per click) of ads. If your website gets high CPC ads then you generate more revenue with less traffic.
Quick FAQ's On Adsense and its Approvals
I already answered some common FAQs to clear your doubts before applying Adsense but I explain some other FAQs about Adsense to clarify your Adsense doubts.
How Can I get approval without rejection?
If you are a newcomer then you definitely face rejection & rejection is important because after rejection you learn why my account face rejection and you rectify that mistake, then after your account gets approved. 
A quote you must hear "Mistakes Make a Men Perfect" if you don't get rejection then you don't learn the reason behind the rejection.
Is there any method there to get fast Adsense approval?
There is no fast way there to approve Adsense account, after applying for Adsense your application stays in a queue and you take patience still application is not reviewed.
If any question is rendering in your mind and wants to know the answer then comment the question below, I definitely give the reply.
How Much Money you can earn from Adsense?
Adsense pays as per two price models CPC and CPM. A publisher can earn per ad click and 1000 impressions of ads.
CPC – PAY FOR CLICK
RPM – PAY FOR 1000 PAGE VIEWS
How Much does Adsense pay per 1000 views?
Adsense Runs on RPM model means revenue Per 1000 impressions. If your website getting visitors from High CPC countries (like US & UK) then you generate high revenue. It means the ads displayed on your website that are us & uk ads.
What is the minimum traffic for approving AdSense?
Simply the answer is no, before applying for Adsense you have to require a User-friendly website with unique quality content.
If your website has zero traffic then also you get Adsense approval without any inquiry.
How Can I get approval without rejection?
If you are a newcomer then you definitely face rejection & rejection is important because after rejection you learn why my account face rejection and you rectify that mistake, then after your account gets approved. 
A quote you must hear "Mistakes Make a Men Perfect" if you don't get rejection then you don't learn the reason behind the rejection.
How long does it take AdSense to approve?
If I took an example of my Adsense application then I got approval in under 24hr. But there may be no guarantee you also get approval in 24hrs if you apply for AdSense then you get a message from Adsense team in a week.
Conclusion
From the above explanation, you must understand Adsense Approval tricks, if not then consider two points, the first is Quality Content which serves some quality information to users.
The second is your website must be responsive or user-friendly, I mean the user can easily search any page of your website.
If you like the post then share it with friends as well as on social media. If your website is satisfying the above two-point then you definitely get Adsense approval.
If you have any queries regarding Adsense Approval then Comment below or contact via email.